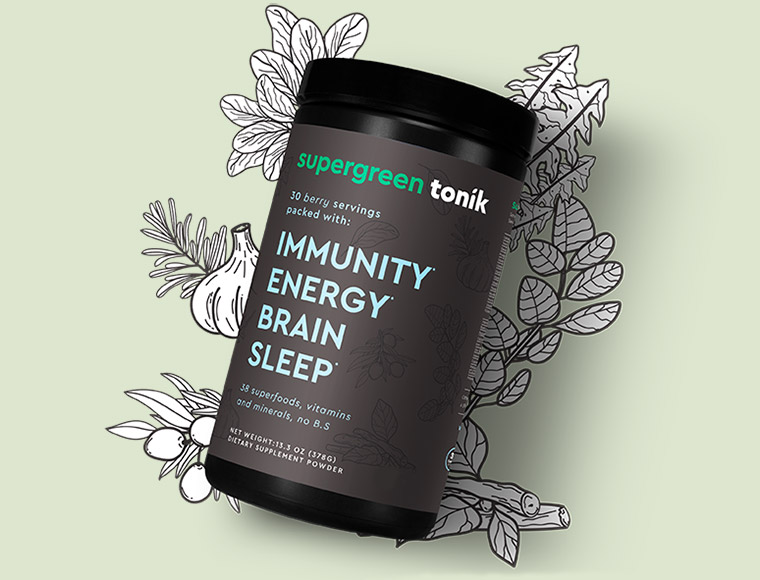 Say Goodbye to Chronic Colds, Energy Slumps and Brain Fog
"I get more energy and don't get as tired during the day." -
Ryan, USA
A Daily Tonik
Invigorates You with...
GREENS
Get your daily minimum of nutrients in one scoop and a glass of water
BRAIN NUTRIENTS
Sleep through the night, wake up feeling rested, and feel mentally sharper
IMMUNE SUPPORT
Feel more energised throughout the day, improve your resiliance and get sick less
BENEFITS
Drink Daily
for Better...
Fight off flu and colds with a stronger immune system
Supergeen Tonik is your nutritional insurance giving you optimal dosages protecting against diseases such as heart health and a weakened immune system.
---
Our Immune-Boosting Nutrients:
GARLIC -
Protects + Supports T-Cell Production
OLIVE LEAF EXTRACT -
Source Of Antioxidants + Protects Against Viruses
DANDELION LEAF -
Protects The Body + Eliminates Free Radicals
VITAMIN C -
Helps Produce White Blood Cells + Eliminate Free Radicals
ZINC -
Protects The Cell Walls + Stops Virus Replication
More energy to thrive in the daily challenges life throws at you
When it comes to boosting energy levels, your morning coffee just won't cut it. Exercise, relaxation, and recovery all play a role, but the biggest factor is nutrition.
---
Our Energy-Boosting Nutrients:
SPINACH -
Packed With Magnesium For Energy Metabolism
VITAMIN C -
Supports Energy Production + Boosts Iron Absorption
IRON -
Provides The Brain And Body With Oxygen
B VITAMINS, FOLATE, AND BIOTIN -
Converts Food Into Usable Energy
Supercharge your brain, increase your productivity and mental performance
We recognize the struggles people face daily. We endeavor to see you develop, succeed, and find your instincts to become better. Using nutrition as a motivator to improve brain function has been the cornerstone of our philosophy right from the start.
Our superfood supplement provides you with the power and mental clarity to make emphatic transformations in yourself and those around you.
---
Our Brain-Boosting Nutrients:
ASHWAGANDHA -
Brain Enhancing Properties + Improved Task Performance
BACOPA LEAVES -
Improves Cognitive Function + Increases Rate Of Learning
RHODIOLA ROOT -
Boost Energy + Improves Cognitive Function
GINKGO LEAVES -
Improves Cognitive Function + Improves Emotional State
Get better quality, deep sleep for a rested mind and body
Sleep is a complex beast at the best of times. It's incredible how something simple yet fundamental to quality of life is so tricky to master.
Exercise, work schedule, and cell phone use are just some of the factors that hurt sleep quality. Improving sleep quality has knock-on effects on other areas in your life, such as boosting productivity and increasing your energy.
---
Our Sleep-Enhancing Nutrients:
ASHWAGANDHA -
Stress Buster + Faster Sleep Times
RHODIOLA ROOT -
Balances The Body + Improves Sleep
L-THEANINE -
Boosts GABA + Improved Sleep
BACOPA LEAVES -
Stress Buster + Improved Sleep
MORINGA LEAF -
Quality Sleep + Improved Digestion
Reduce feelings of stress, anxiety and worry, feel more relaxed
With today's fast-paced lifestyle, it's easy to forget the role nutrition plays in our mental health.
Recent developments in research fields such as nutritional psychiatry have shown how eating a diet lacking in essential nutrients can lead to increased stress, poor sleep quality, and depression, leaving you feeling down and out.
---
Our Anxiety-Enhancing Nutrients:
L-THEANINE -
Regulates Emotion + Lowers Blood Pressure
BACOPA LEAVES -
Boosts Mood + Lowers Cortisol
ASHWAGANDHA -
Reduces Stress + Anxiety
SPINACH -
High Levels Of Magnesium + Supports Dopamine Production
SPIRULINA -
High Levels Of Tryptophan + Protein + Vitamin B-12
Increased longevity by improving cholesterol and cardiovascular health
Staying healthy physically, mentally, and emotionally all contribute to your overall health and well-being.
Self-esteem and a positive attitude are integral to not only your life but also those around you.
---
Our Health and Well-being Ingredients:
VITAMIN C -
Boost Immunity + Younger Looking Skin
VITAMIN B-12 -
Increases Mood + Bone Health
VITAMIN A -
Improves Eye Sight + Helps Cell Growth
ZINC -
Overall Health + Improves Digestion + Increases Metabolism
SPIRULINA -
High Nutrient Count + Low In Calories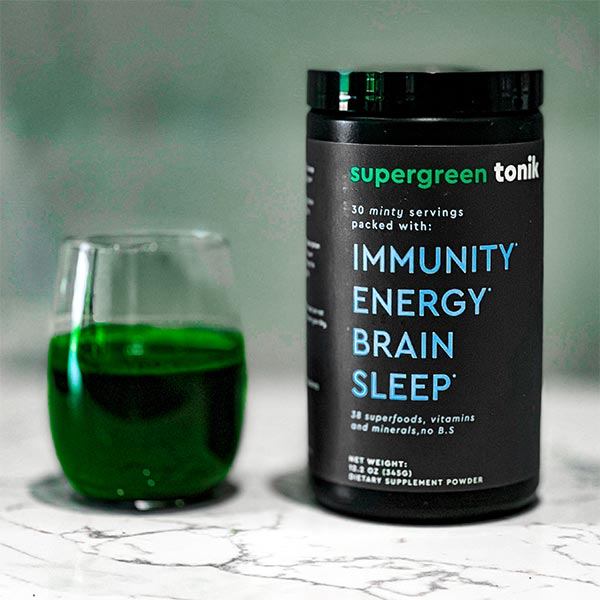 Feeling Great is as Easy as...
Step 1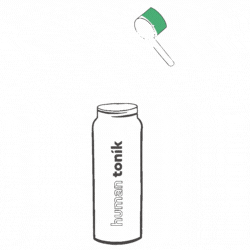 Take one scoop into a glass or shaker
Step 2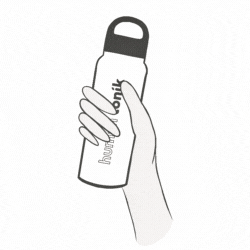 Mix with cold water or your favorite smoothie
Step 3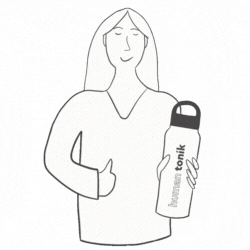 Drink daily to start feeling great
WHAT'S INSIDE
Raw Superfoods, Adaptogens, and Nutrients in
Dosages You Can Actually Read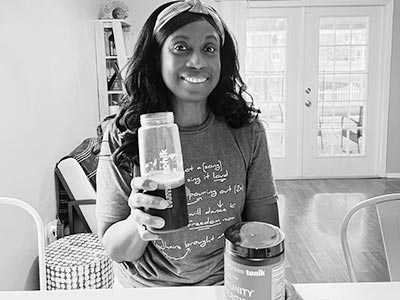 I am telling you Supergreen is phenomenal!!
"I stopped taking for a couple months due to finances and during that time I got very sick, with my low immunity due to lymphoma if I just slack for a short time I see the effects. Started back on and it's like within a day or two my energy is better, and feeling great!! Thank you so much "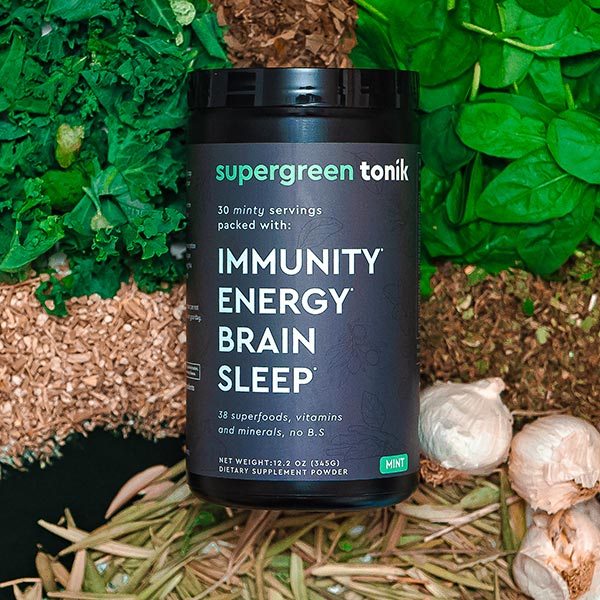 Clinically Effective Dosages. All Shown
Most greens supplements, multivitamin gummies, and capsules list dozens of ingredients...then underdose key nutrients and use fillers to plug the gaps.
They're not upfront with the dosages you're drinking, which means you don't know if you're getting the promised benefits.
Supergreen Tonik is different.
We blend "Premium Raw Ingredients" in the correct dosages your body needs to absorb and benefit from them.
We will always show you the exact measurement of each dosage, so you can check for yourself. It is our guarrante we will never leave you guessing.
Full Transparency: know what you're putting in your body and your brain
NO proprietary blends.
NO fillers.
Absolutely NO BS.
Supergreen Tonik Difference
| | Us | Them |
| --- | --- | --- |
| Full Disclosure Labeling | | |
| Full Dosages | | |
| Science-Backed Ingredients | | |
| Supports Focus & Cognition | | |
| 3rd-party Tested | | Sometimes |
| Supports Immunity | | |
| Money-back Guarantee | 1-year | < 90 days |
ton·ic
/ˈtänik/
...giving a feeling of vigor or well-being.
The Human Behind the Tonik
Adam Wright was a competitive triathlete until Chronic Fatigue Syndrome (CFS) which caused debilitating brain fog, muscle weakness and constant illness.
He needed 10–12 hours of sleep just to get through the day!
After trying almost 100 different greens & nutritional products without success, Adam knew he had to develop his own if he wanted to break the cycle of illness, recovery and illness again.
Feel Invigorated
Powerful body & mind fuel to help you think sharper and feel your best
Checkout With Confidence in Just 2-Minutes.
100% Risk-Free Money-Back Guarantee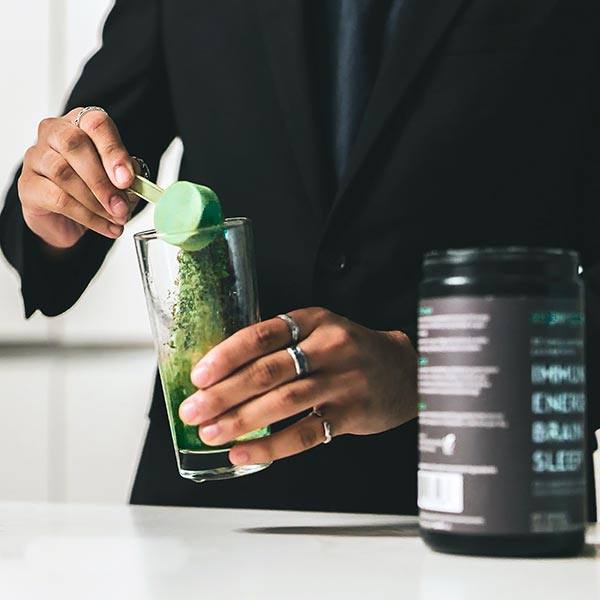 TESTIMONIALS
What Humans Are Saying: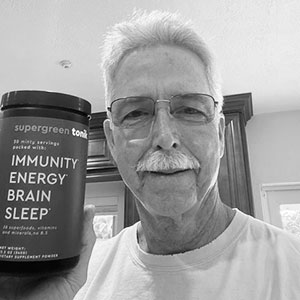 "I can't believe how much better I feel after less than a month. My arthritis pain has diminished at least 75%! I'm sleeping better and dreaming almost every night. I've been sharing my experience with friends and family in the hope they will give it a try too." †
- John, USA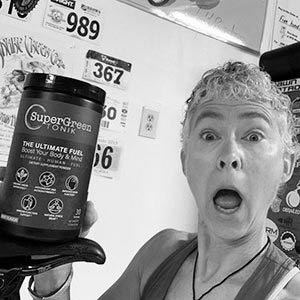 "I am a very passionate ultra endurance cyclist who is also trying out the ultra running. I thrash my body pretty darn good, and now with my age and having gone through menopause, recovery is so much more important. SuperGreen Tonik is vital in that recovery." †
- Carey, USA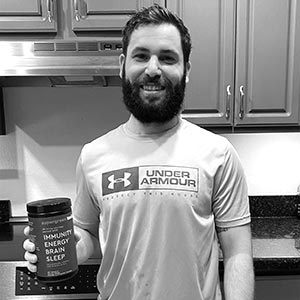 "I am a biochemist so I know a lot about nutrition and health...I take [ SuperGreen Tonik ] every day to stay healthy. I feel I get more energy and don't get as tired during the day." †
- Ryan, USA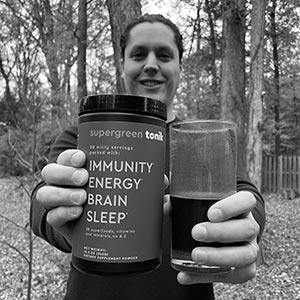 "After trying many green powders I finally found one that has great taste while having a solid nutritional profile. I'm a big fan of nootropics and it was great to see that Supergreen Tonic added them to their formula. I would give Supergreen Tonik 6 stars if I could!" †
- Daniel, USA
† Results may vary from person to person
Reclaim your Energy, Immunity, and Sleep - Without the BS!
Choose your Flavor:
"I'm full of energy and mental clarity. I regularly gift it to family and friends. Health = Wealth" - Glenn, USA
Supergreen Tonik FAQs
What is Supergreen Tonik?
Supergreen Tonik is a superfood and adaptogen powder that combines 16 evidence-backed ingredients in clinically proven dosages to support complete body and brain health.
What makes Supergreen Tonik different to other greens powders?
Many of our competitors underdose the key ingredients in their formulas and hide them in proprietary blends. We want our customers to know exactly what they are consuming, so we insist on using fully transparent labeling.
All our ingredients are in clinically proven dosages with real science to support the benefits.
What does Supergreen Tonik taste like?
We have two natural flavors; Mint and Berry. Both have a small amount of stevia leaf to offset the bitterness of the greens in the formula.
Our natural berry flavor is a mixture of berries. Fans of mint and peppermint will enjoy the freshness of the mint flavor.
We have a special mint + berry bundle if you're unsure which flavor to try!
Is Supergreen Tonik vegan?
Yes, we ensure all our ingredients are vegan.
I am pregnant can I take Supergreen Tonik?
Generally we recommend not taking our supplement unless you have spoken directly with your doctor and shown our full ingredient label to them. We include all the ingredients and their individual amounts on the label and so your medical doctor can advise if this is suitable for you.
Our 1-Year Guarantee
The ONLY greens supplement guarantee of its kind.
Try Supergreen Tonik for up to 365 days and see how you feel.
If you don't love it, you'll get your money back. *
No questions, no hassle.
Ready to Thrive?
Just one scoop a day; No more shopping, blending, and messy clean-up
1-year money-back guarantee *